2007.03.01 Thursday
Eating a fish
In Japan,eating a grilled fish is really common. It's easy to cook. You don't need to cut it. Just grill a fish whole.
Speaking of a grilled fish,Sanma is one of popular fish as a grilled fish. Sanma means a saury in Japanese. Do you like to eat a saury? I think it's delicious,but I don't like to eat it. Because it's not easy to eat it by chopsticks. There are a lot of small bones,so getting rid of them is troublesome task. Because of that,I don't really like to eat a Sanma.
Well,look at this photo↓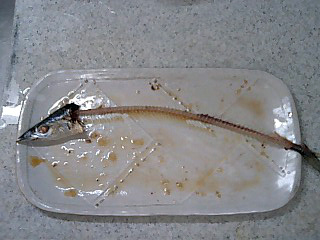 This is my son's plate after eating a grilled Sanma. I'm always impressed by his skill of eating a fish. You know,eating a fish by chopsticks is really hard. I can't eat a fish by chopsticks well like him. And also,I don't really like to eat fish-guts. However,my son eats them and says it's delicious. He loves eating a grilled fish and Sanma is his favorite fish. I heard that there are few children who like eating a fish. My son is ten years old. He says he like fish more than meat. I think it's really good for health.
Every time we eat fishes for a dinner,I'm scolded by my son,because I have enough leftovers. I need to learn about a skill of eating a fish from my son.