2010.04.23 Friday
Today's lunch for my son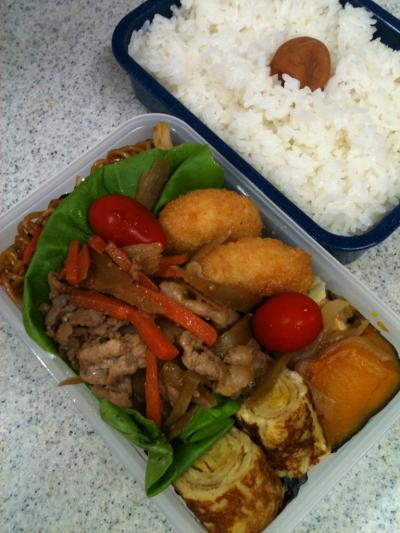 My son became a high school student in spring this year.
In Japan,elementary school and junior high school have school lunch,but most of high schools don't have it. So,I have to pack a lunch for my son every morning.
This photo is today's lunch for my son.
He is very tall and has much appetite so I have to make heavy lunch. I'm always thinking about menu of tomorrow's lunch. It's a job. He likes meat dish but it's difficult to cook different meat dish every day.
Today's main menu is sauteed pork with carrot and burdock.
It's like
Kinpira
.
To tell the truth,I'm not good at cooking and can't enjoy it. So,packing lunch every day is really tough for me but I'd like to make a good lunch for him because he is a growing boy.
It's almost lunch time.
I hope my son enjoys today's lunch.