2005.10.21 Friday
Oden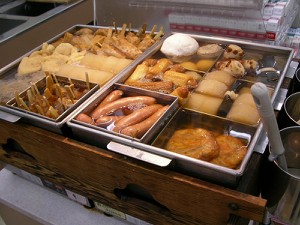 In Japan,Oden season has come. I like Oden! I don't know how to say it in English. Maybe it's hotchpotch? If you come to Japan at this time,you should go to convenience stores. Most of convenience stores in Japan start to sell Oden from this season,so you would be able to find Oden which is sold near the cash register. These are really nice and hot,not only that, these are low calorie foods and cheap. It's really popular for Japanese people in winter.
Well,I'll tell you the way to buy some Oden at a convenience store in Japan.
There are some convenience stores which you can order to buy some Oden to a store staff,but most of them are self-service.
First,you take a cup which is in the front or side of the Oden pan,and then you take some Oden as you like and put them into the cup. Finally,you put some soup into the cup and go to the cash register. At the cash register,you might be asked how many Oden you took into the cup. In that case, don't lie to a store staff. ;)
After you paid,a store staff would ask you whether you need a small pack of mustard. You can get it ,if you want. Of course I recommend to eat Oden with some mustard.
Well, I think you got the way to buy some Oden. You would have no problem with buying some Oden at the convenience store,wouldn't you?
Anyway,you've got to try Oden,if you came to Japan !!